Hamilton Review
Caitrin Keiper and Adam Keiper
[The text below is the original version of a review that appeared, in a somewhat different form, under the title "Founders' Beat" in the November 23, 2015 issue of the Weekly Standard.]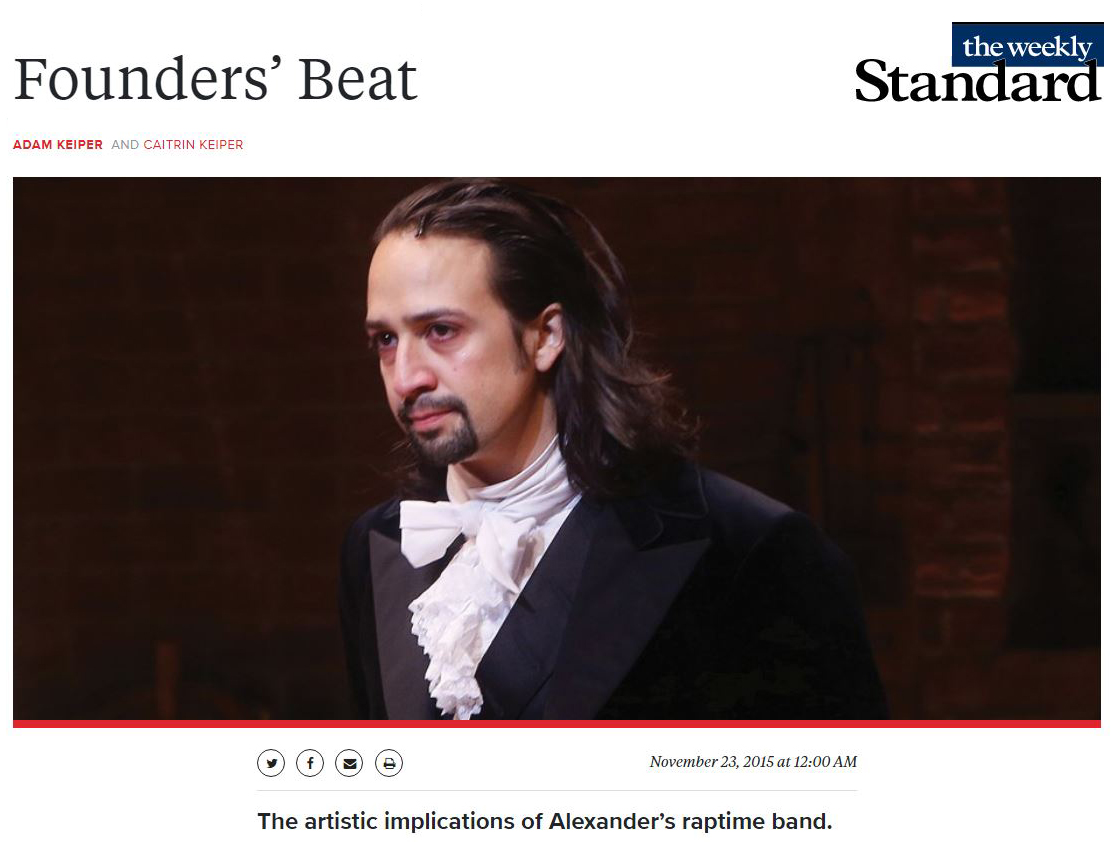 "How does a bastard, orphan, son of a whore and a Scotsman, dropped in the middle of a forgotten spot in the Caribbean by providence, impoverished, in squalor, grow up to be a hero and a scholar?" This is the first in a set of questions that Hamilton, this season's biggest Broadway blockbuster, asks about individual excellence, American exceptionalism, and democratic memory.
Hamilton is the brainchild of Lin-Manuel Miranda, a composer, playwright, and polymath performer who at the age of thirty-five has already racked up an Emmy, a Grammy, some Tonys, a MacArthur "genius" grant, and presumably some serious coin from his new show's ticket sales. A few years ago, Miranda randomly picked up for a little beach reading a copy of Ron Chernow's eight-hundred-page biography of Alexander Hamilton. Hamilton's tumultuous life and times suggested songs and scenes that Miranda ultimately assembled into a fully staged musical. The show is sold out months in advance, the cast recording has set sales records, and there is already talk of a film.
Miranda himself stars in the title role, depicting major episodes in Hamilton's life — from his childhood on the island of Nevis to his service in the Revolution to his support for the new Constitution to his time as the first Secretary of the Treasury, through to the infamous duel that killed him before his fiftieth birthday. These are interwoven with the lives of other founders, including George Washington (Chris Jackson as Hamilton's indispensable mentor, boss, and shield), Thomas Jefferson and James Madison (Daveed Diggs and Okieriete Onaodowan playing Hamilton's greatest political rivals on the national stage in the 1790s), and Aaron Burr (Leslie Odom, Jr. as Hamilton's frenemy and opponent in the fatal duel).
Matters of statecraft and of honor intersect with matters of the heart. The ladies' man Hamilton sets his sights on New York's most eligible bachelorettes, the glamorous Schuyler sisters. (Think Destiny's Child in petticoats.) He courts and marries Eliza Schuyler (Phillipa Soo), but her older sister Angelica (Renée Elise Goldsberry) loves him, too. "At least my dear Eliza's his wife," she sings. "At least I keep his eyes in my life." Historians have long read between the lines of the letters Angelica and Alexander exchanged; Miranda puts their flirtation and feelings center stage. Meanwhile, another relationship — a messy affair with Maria Reynolds, which continues even as Reynolds's husband blackmails Hamilton — is kept quiet for years until it finally blows up his political career.
Hamilton takes a handful of liberties with the factual record to simplify and dramatize the story, but evidently none that Chernow, a historical consultant for the show, couldn't live with. The paperback edition of Chernow's doorstop is sold alongside other swag at the Richard Rodgers Theatre, and Miranda has been known to exhort his social-media followers to "get thee to Chernow."
Hamilton has been deservedly praised for its innovative use of rap. Encountering the Founding Fathers rapping on stage is no stranger than encountering them singing the ballads and comic ditties of 1776, the last big Broadway hit to tell their story. The rapid-fire pacing of rap and the association of hip-hop with a live-fast, die-young ethos give Hamilton a drive that befits the circumstances of the new nation and its founders. As Miranda put it in a White House appearance in 2009, when he was just beginning work on the project, Alexander Hamilton "embodies hip-hop," from his chaotic childhood to his meteoric rise and the way he "caught beef with every other Founding Father," clashing over ideas as well as reputations and personalities.
Moreover, as another Alexander once remarked, "the sound must seem an echo to the sense." The sheer wordiness of rap is a good match for the show's subject matter. According to an analysis by Leah Libresco for the website FiveThirtyEight, Hamilton stuffs up to an order of magnitude more words into its soundtrack than your standard musical. The torrent of clever verbosity — not since Cole Porter has a Broadway lyricist demonstrated such mastery of internal rhyme — is well suited to our founders' lively exchanges of ideas and insults. Hamilton and Jefferson didn't really settle their cabinet disputes through rap battles, but one almost wishes they had.
Still, the label "hip-hop musical," widely used in the press, does not do justice to Hamilton's mashup of genres. The show's numbers are composed in a blizzard of styles and instrumentalizations. Phillipa Soo's solos as Eliza Schuyler Hamilton, concerned with themes of love and family life, have a timeless Broadway feel. The liaison with Maria Reynolds (Jasmine Cephas Jones) is given a steamy R&B treatment that makes the foot-tapping audience complicit in Hamilton's betrayal. An anti-revolutionary colonial on a soapbox sings to a minuet with harpsichord backing; Daveed Diggs's debonair Jefferson gets a jazzy entrance; a drinking song has a touch of reggae. King George III (played in the cast recording, and until recently on the stage, by Jonathan Groff) sings a campy love-and-loss tune — "You'll Be Back" — worthy of Freddie Mercury.
The score is not only absurdly catchy, but rewards careful attention. Allusions to other stage shows — including 1776, South Pacific, The Pirates of Penzance, and The Last Five Years — are tucked next to elements borrowed from Biggie Smalls and Eminem. The lyrics and motifs are layered with a complexity that recalls Les Misérables — a show that gets its own passing nod in Hamilton, and that shares with it any number of other similarities in composition, scope, and moral seriousness.
The recurring and compounding motifs contribute to a sense of foreshadowing in a story whose end we know even before the first notes are sung. Often the first conversation between characters will come to define them, or a warning given at a certain moment will turn out even more prescient in a different context down the line. (A young Hamilton, desperate to make his mark, insists "I'm not throwing away my shot!" Over the course of three duels that he's involved with, he plays on the literal meaning of this phrase and ultimately turns against it, throwing away his shot on purpose while Burr fails to do the same.) This sense of destiny is reinforced by a writhing Greek chorus of backup singers. So, paradoxically, the lives of Hamilton and his cohort are presented as all but predestined, even though Hamilton is all about inventing a new country, one in which a person's past does not define his future, not even for immigrants and orphans like Hamilton. And though the success of the founders' democratic experiment might also seem, from our vantage, to have been predestined for success, Hamilton reminds us of how uncertain and contingent it was.
Which brings us to the three kinds of questions that animate the plot. First, there are questions about individual excellence. Everyone, even Hamilton's wife, wonders about his extraordinary abilities, especially to write and argue and persuade. "How do you write like tomorrow won't arrive? How do you write like you need it to survive? How do you write ev'ry second you're alive?" Versions of these questions are repeated throughout Hamilton. They are never answered — leaving us to understand only that while Alexander Hamilton was a hard-working self-starter, his gifts were ultimately just that: gifts of nature or providence toward which our proper posture is gratitude and awe.
Second, starting with its opening lines, the show asks how Hamilton could have achieved what he did despite his social handicaps. He was a bastard and an orphan and an immigrant. How then could he become a leader and a Founding Father? The answer implicit throughout the show is that there is something exceptional about his adopted nation — or rather, the nation that adopted him. America draws on the gifts of individuals from every background; here the miracle of a nobody becoming a great somebody is an everyday occurrence. To underline this point, all the principal roles in the Broadway production with the exception of King George are played by nonwhite actors — a casting decision that sends the message that the ideals of the "dead white males" of the American founding belong to everyone, and that the energy and aspirations of the immigrants attracted to those ideals are among their liveliest expressions.
Finally, Hamilton ends with two other questions: "Will they tell your story?" and "Who tells your story?" On the surface, these questions allude to the fact that Hamilton's political opponents outlived him. The dying Hamilton wonders whether he had built a lasting legacy, rapping, "I wrote some notes at the beginning of a song someone will sing for me. America, you great unfinished symphony, you sent for me." More deeply, though, these questions point to a central challenge of democratic politics: the need to remember and transmit the ideals that sustain our republic, even as future generations reshape what came before — continuing the symphony. Vexed by this very problem, the young Abraham Lincoln in his famous 1838 Lyceum address concluded that we must strive to foster a warm "reverence" for both the Constitution and the founders who gave it to us. If our democratic republic is to last, we must tell and retell the story of its founding — the story that, in all its messy complexity, is itself one of our founders' greatest gifts. Hamilton rises to the challenge. It is an optimistic retelling suited to our times and worthy of our founders.
—Caitrin Keiper is editor of Philanthropy. Adam Keiper is editor of The New Atlantis.